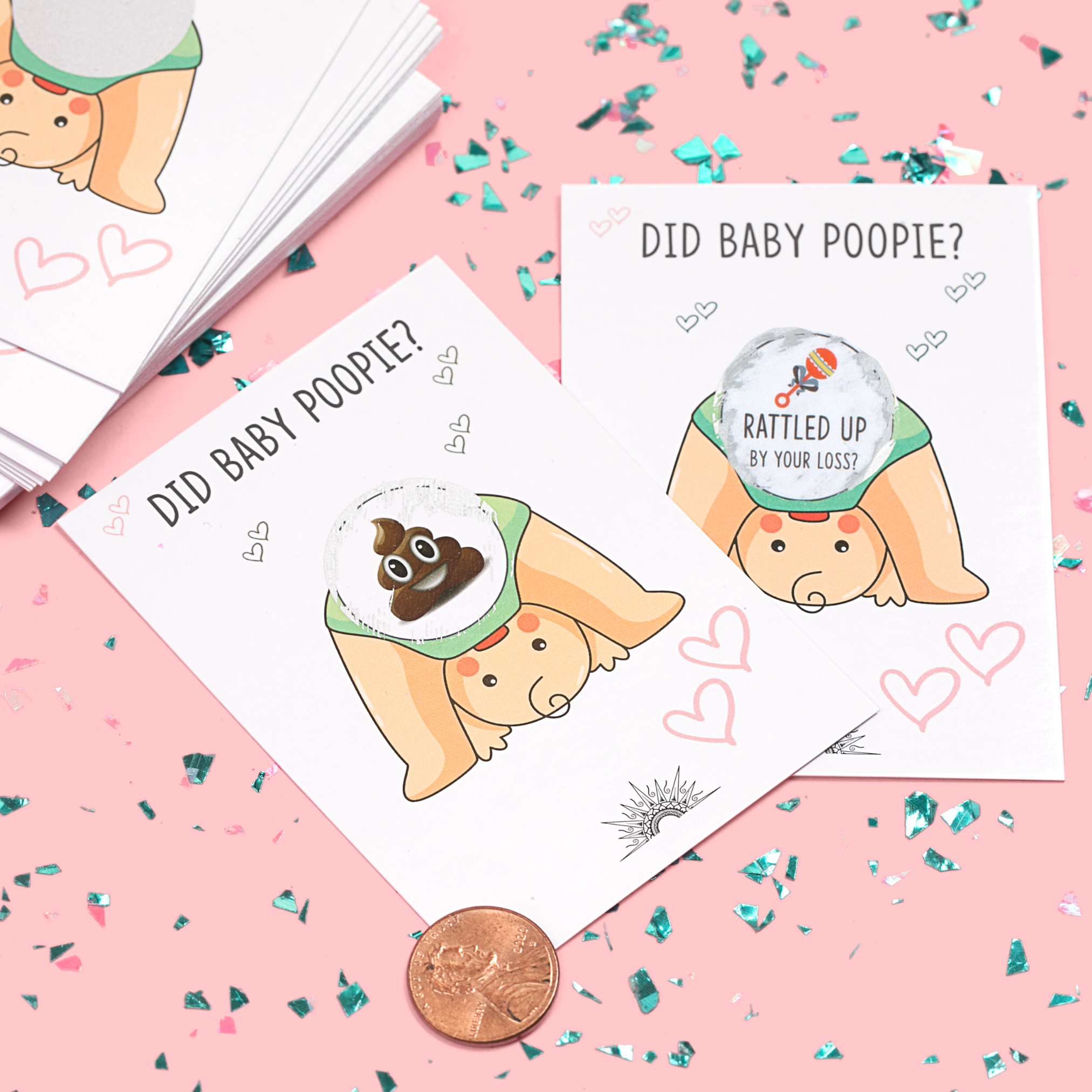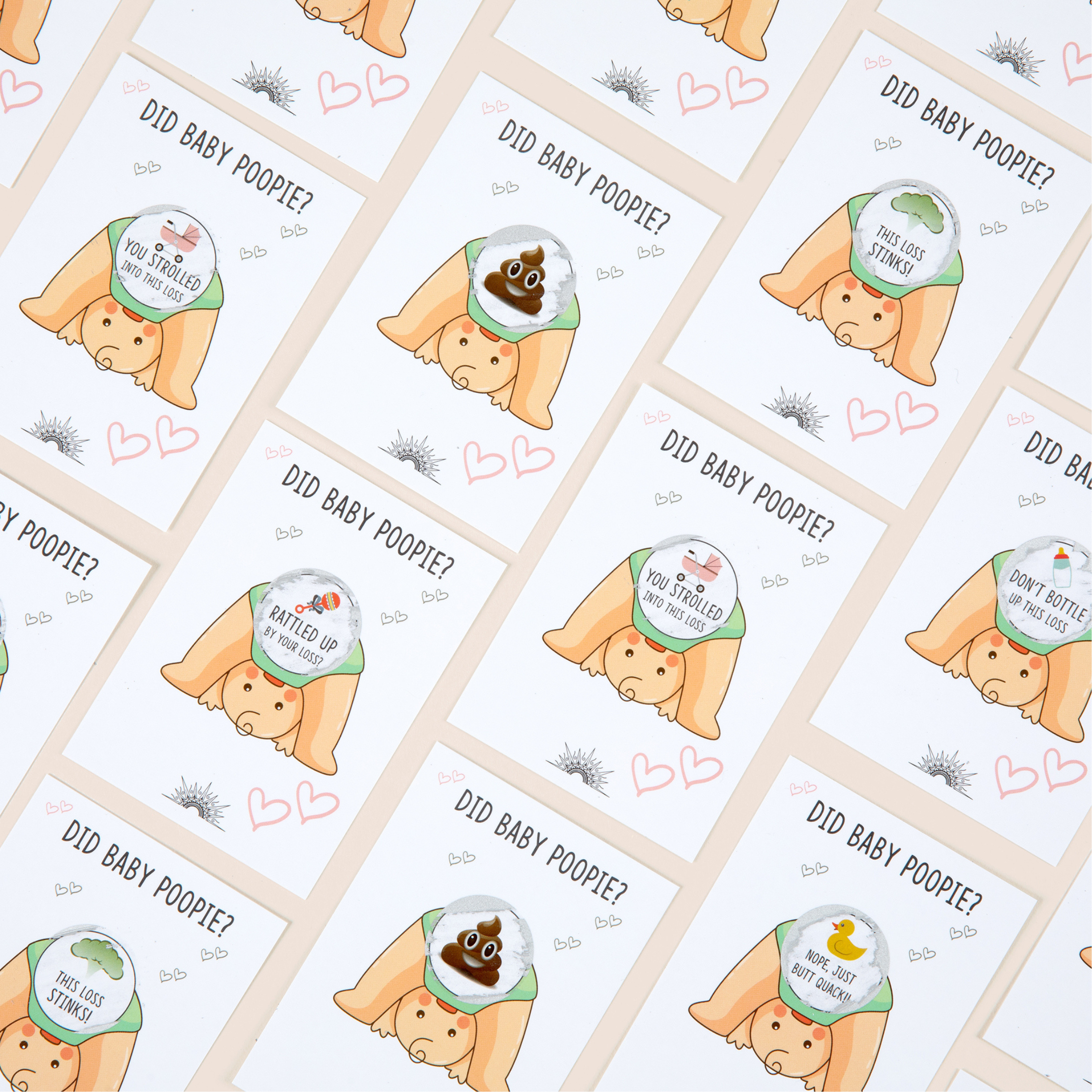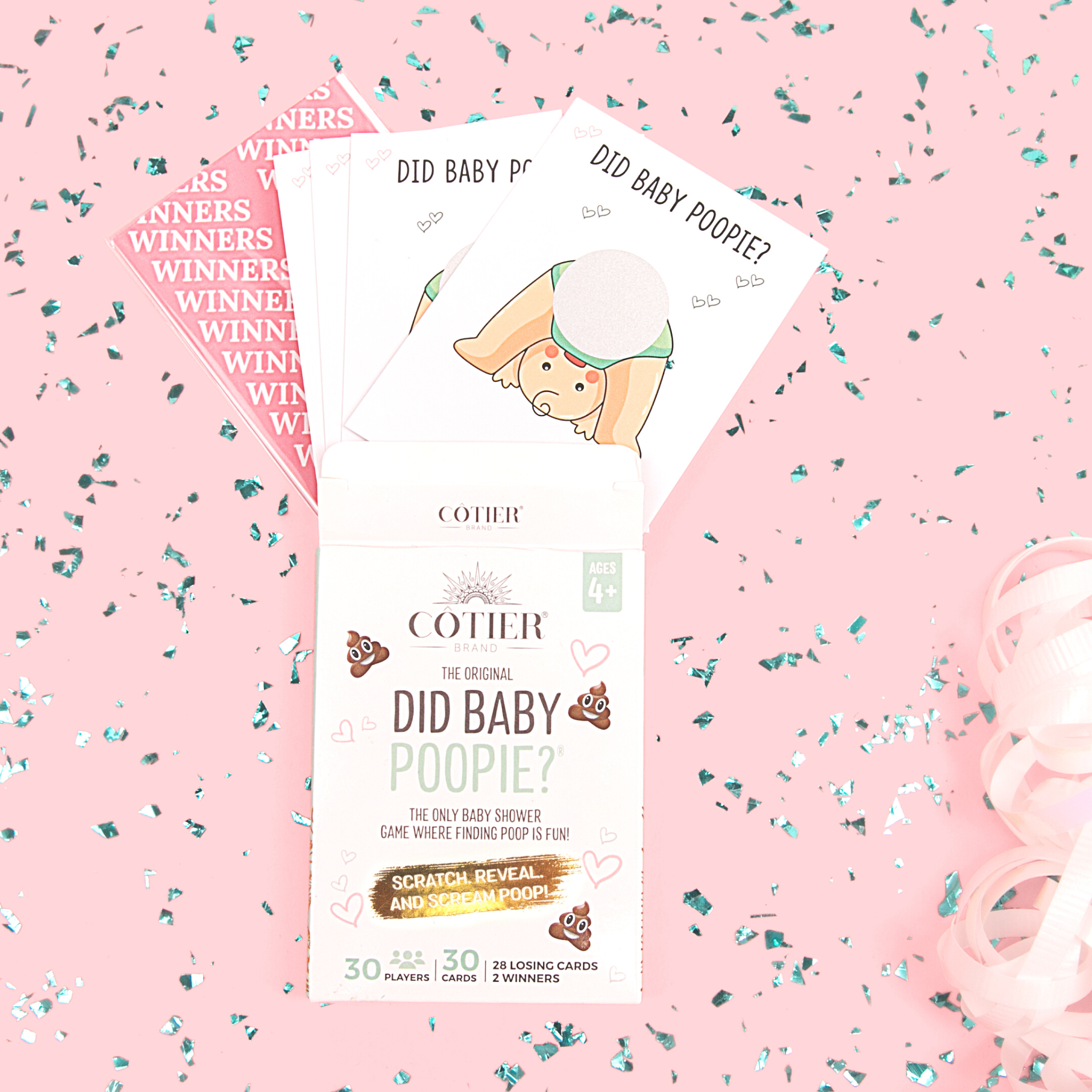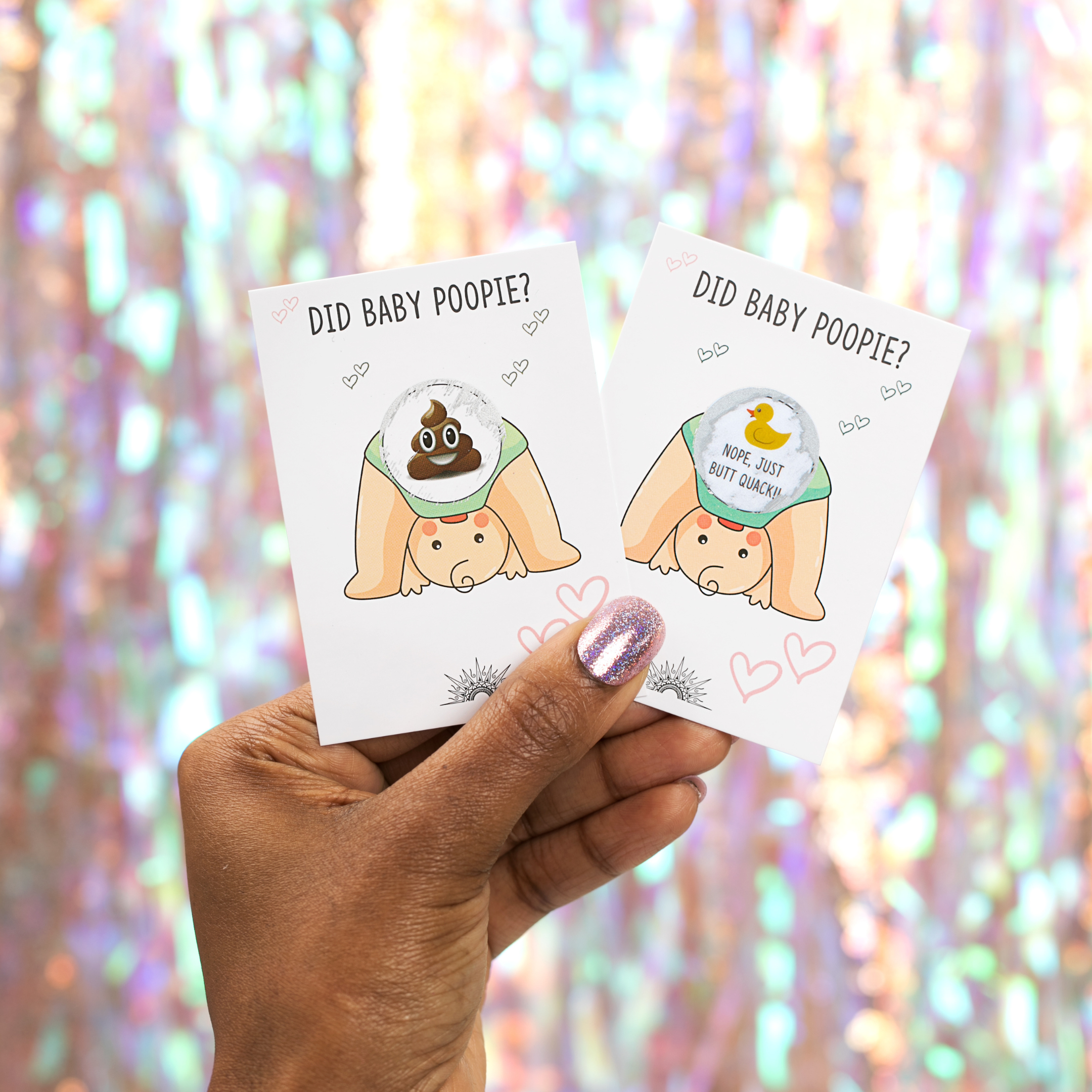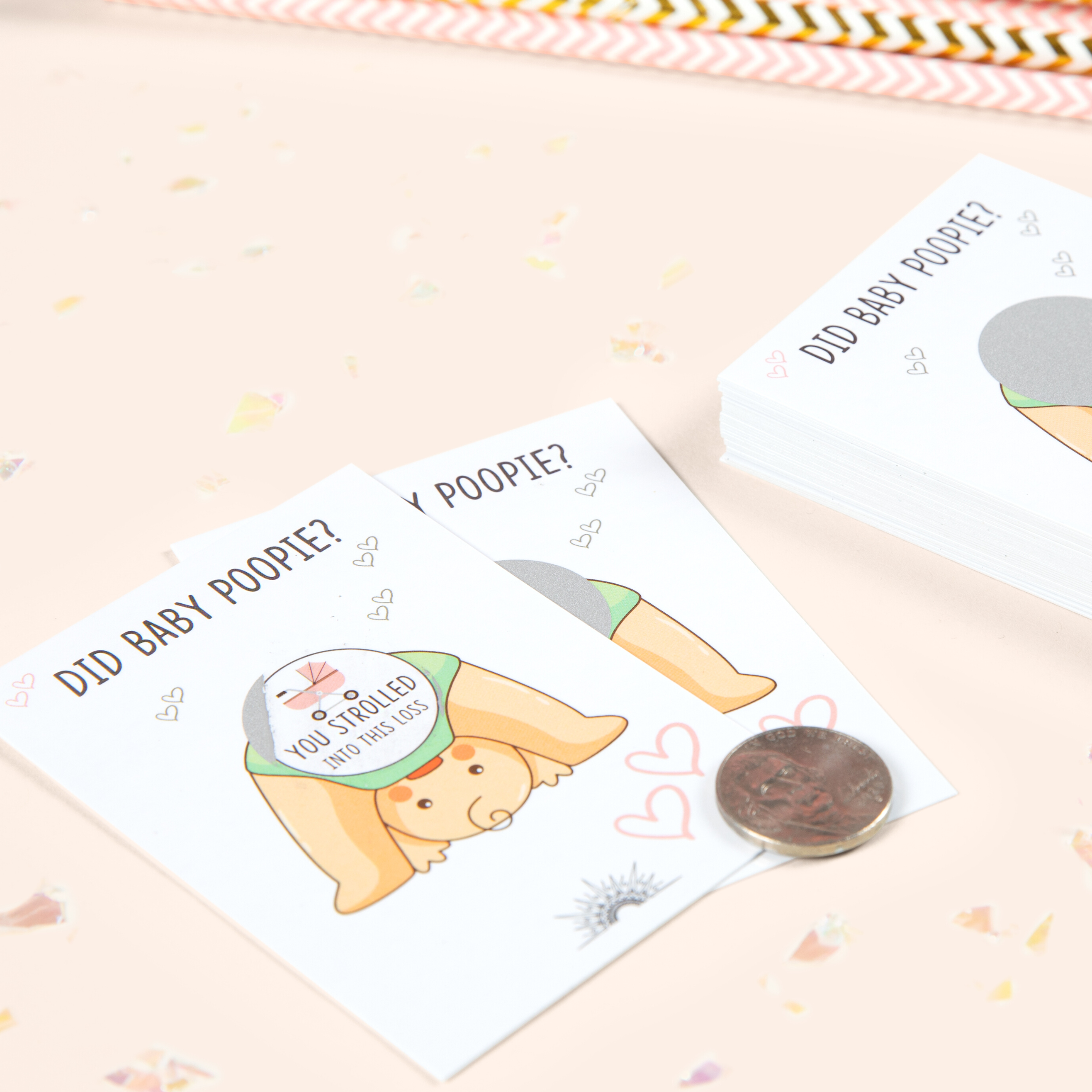 Did Baby Poopie?® - Baby Shower Poop Emoji Lottery Game
Did Baby Poopie? is a hilarious baby shower scratch off lottery game where everyone scratches in hopes of finding the winning poop emoji! If you're looking for a unique baby shower game that guests of all ages will actually enjoy with a hint of humor then you've found it! And best of all- NO ASSEMBLY REQUIRED! Can you say no stress? 🙌🏻
To begin, pass out the cards to your guests, have them scratch and whoever reveals a poop emoji wins! Make it extra fun by having the winner scream "My baby pooped!" or "I got poopie!". For those who don't reveal a poop emoji, they're greeted with 1 of 5 witty losing remarks that are sure to make them giggle and be entertained as well!
- 30 Cards
- 2 Winning "Poop Emoji" Cards
- 5 Different Witty Losing Remarks
- Cards Are Poker Card Size
Great Ice Breaker!!
This was one of the many games played at the baby shower. The guests found this one super cute. It created a lot of laughter, excitement, and commotion because this was something that had not been seen by many. At the end, I kind of forgot to place the winning cards in the middle of the stack, instead, they were placed at the bottom, and we had no immediate winners. So, make sure that you keep track of the winning cards, especially if you have three packs of cards like I had because, it is very easy to lose track once they are taken out of their pouches and mixed in with the rest. Overall, it was a great game!!
Baby Shower scratch off game
This game is so great to entertain and break the ice in a baby shower; people start laughing and have so much fun! I truly recommend it to everybody! The quality of the cards is perfectly well done by the seller!
Not as shown
Was a little disappointed. It shows a big display. There was no display only a small box with scratch offs in it. In my opinion should have been cheap.
Best baby shower game! HUGE hit!!
This game was a HUGE hit at the baby shower I hosted! Everyone loved this game. It was everyone's favorite game of the whole sheet! If you're considering getting it for your shower, just do it!
The winning cards are separate!!!!
Shuffle cards find winning ones in the box! I didn't!!! Everyone loved this game even though no one won lol!